How social media can help drive traffic to your website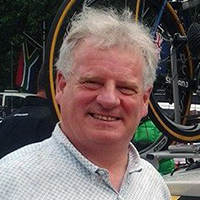 By Paul, July 19, 2019
Build it and they will come….wrong!
We all want more traffic to our website so here are a few ideas to get more visitors to your site using social media channels.
Hopefully you did plenty of research and you have a website that is mobile responsive, it loads fast and is engaging. It will have been designed to deliver your business objectives, whether that be increased sales, increased brand awareness, more leads from your target audience etc.
Bad news...it doesnt happen on its own, you need to be proactive
Just like a new shop opening on the high street, perhaps not a great example these days as they all seem to be closing,it is necessary to tell people that they have opened. There are easy ways to do this and those that will get an early win but they are all within the reach of even the smallest business.
So time to get social
One of the best and most cost effective ways to increase traffic to your website is to use social media channels. A word of warning though, don't treat these channels simply as an advertising tool, you need to be smarter than this. Think about what posts or articles you open and read, make it engaging, don't try and trick people with click bait, social media users are very savvy nowadays.
Create engaging and relevant content, post frequently and at the right time. You can use analytics to see which posts perform best and learn from this. 
Twitter is ideal for short, snappy and enticing links. Twitter posts known as tweets should be engaging, wherever possible include an image ,use trending hashtags, keep tweets conversational and talk with people rather than at them and add your sense of humor to your tweets, try and Incorporate viral words.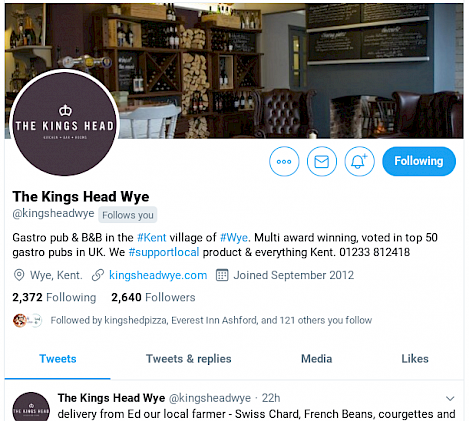 @kingsheadwye is a small business that uses social media to strengthen their brand with frequent tweets about new dishes, local produce, events etc to great effect.
Linkedin is the world's largest professional social network and is particularly effective at helping to get your message out if you are in the Business to Business (B2B) market. Your target clients are almost certainly going to be on Linkedin and you should be posting content regularly to increase awareness of your business and engage with your target audience. Encourage your staff to share your posts and use your company name when they add a post about their work.
This is an example of the data that can be gathered from your Linkedin company page. This is real data from a company page for an engineering service company. The page has only been set up for 3 weeks and already it can be seen that their posts are being seen by people people who are in their target audience.
Use the channels that work best for you
Business to consumer (B2C) businesses can find great traction with image-heavy social sites like Pinterest and Instagram as well as Facebook and YouTube. These channels are better for raising brand awareness and to increase your following when an existing follower shares your content with their friends and followers. Users of these channels generally don't click through to your website, preferring to add their comments or reactions immediately below the post. The exception to this is if your social media post contains a compelling offer that is only available on your website, so particularly useful for shopping sites.
But It's not enough to just share content through social channels – you need to actively participate in the community, too. Join in group discussions with relevant hashtags, answer questions on Is your Facebook posts and engage with your readers. Nothing turns people off quicker than using social media as a broadcast channel, use social media as it was intended and actually interact with your fans. We have found that posts with images of people get greater engagement.
Try Guest Blogging
If you are an expert in your field then guest blogging could be a great way for you to build brand awareness. Securing a guest post on a reputable site can increase blog traffic to your website but it will need to be good quality original content and you need to carefully select the blog to ensure that the audience is right for your business and you will want to know how much traffic it receives and that it has an excellent reputation, otherwise why would you want to be associated with it? Also check that they are not inserting competitors ads into or around your post.
Get involved in Comment Sections
You probably visit at least a few sites that are relevant to your business on a regular basis, so why not join the conversation? 
Commenting doesn't necessarily provide an immediate boost to referral traffic right away, but making a name for yourself by providing insightful, thought-provoking comments on industry blogs and sites is a great way to get your name out there – which can subsequently result in driving more traffic to your own site. Just remember that, as with guest posting, quality and relevance are key – you should be engaging with other people in your niche, not dropping spam links on unrelated websites.
It's not a one size fits all solution
There is no magic formula for content marketing success, despite what some would have you believe. For this reason, vary the length and format of your content to make it as appealing as possible to different kinds of readers. Intersperse shorter, news-based blog posts with long-form content as well as video, infographics and data-driven pieces for maximum impact and use your content across all of your channels bearing in mind your audience.
Measure the results and take actions
Google Analytics is an invaluable source of data on many metrics of your website, from your most popular pages to visitor demographics.Regularly monitor your analytics and use this information to inform your online strategies. Pay attention to what posts and pages are proving the most popular. Inspect visitor data to see how, where and when your site traffic is coming from.
Likewise both Twitter and Facebook Insights not only provide overall audience statistics, you can get quite detailed information about individual posts just like the one below.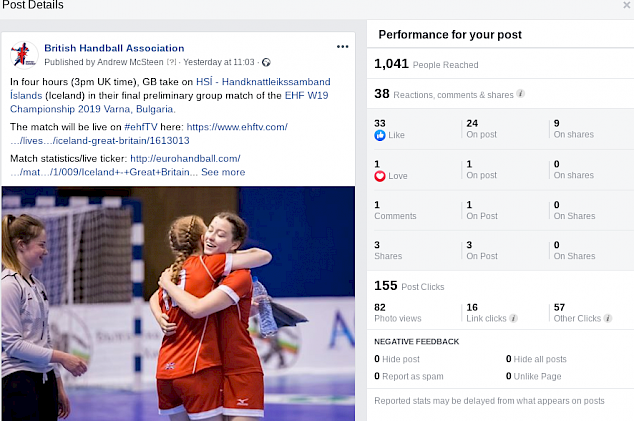 Finally, keep an eye on the competition
Check out what your competitors are up to and what's hot in your industry. There are services that can show you the performance of other sites and content to provide you with an at-a-glance view of what topics are resonating with readers and, most importantly, making the rounds on social media, though these are generally paid services. But it is dead easy to follow your competitors and industry influencers on social media and you will soon know what they are up to, after all they are probably doing it to you.
Find out what others are reading (and talking about), and emulate that kind of content to bring traffic to your website.
In a future post we will be looking at how to write engaging content using irresistible headlines and long tail keywords plus how to improve the on page SEO of your website.
In the meantime, if you would like any help with content marketing or setting up analytics, talk with a specialist at Warp Design - mail us on theteam@warp.design or call 01233 884761 . We would love to hear from you.