Is your website costing the earth? Good news - it doesn't have to.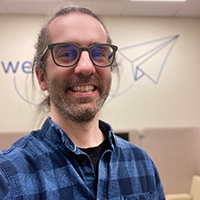 By Jonathan, October 2, 2019
Climate change is real, it's happening now and it is affecting us all.
Atmospheric and ocean temperatures are on the up, sea ice is shrinking and sea levels are rising. Weather patterns are being disrupted. Wildfires, flash floods, extreme temperatures, storms and droughts are becoming more commonplace.
The first decade of this century was the warmest since records began in 1850, 0.2°C warmer than the preceding decade (1991-2000), which itself was warmer than any before it.
We're all coming under increasing pressure (and rightly so) to consider the impact of our lifestyles on planet Earth, with flights, car journeys and intensive farming coming under particular scrutiny.
What's that got to do with my website?
I don't expect you came here for a lecture – we've all seen the news! But have you ever considered the impact the Internet and your website could be having on the environment?
It may shock you to discover some reports are showing data centres (where the Internet's data is stored and processed) are on-course to have a bigger carbon footprint than aviation in the very near future.
In fact, a Greenpeace report estimated that the IT sector was already consuming approximately 7% of global electricity in 2017. That's before even taking into account an anticipated threefold increase in global internet traffic by 2020.
So how does the web consume so much energy?
A growing population coupled with the burgeoning 'internet of things' and the fact most of us spend more of our lives online means an increasing reliance on the data centres that sit behind the internet.
These, often vast, warehouses of servers are where: the world's information is stored; our images are archived; the code to power our favourite websites and apps resides; search data is indexed; the answers to our questions are calculated and our financial transactions are processed.
These racks of servers, routers and other network infrastructure not only need electricity to run but also need to be kept cool - requiring water pumps and round-the-clock air conditioning.
This is of-course just the tip of the iceberg. We're not accounting here for the manufacture of connected devices, e-commerce deliveries, telephone exchanges, charging phones and laptops, powering cell network antennas and so much more. But you get the idea.
But my business still needs a website - what can I do about how much energy it's consuming?
It's not all doom and gloom – the good news is that here at Warp Design we're taking steps to confront the problem head-on.
As of October 2019 we are officially part of a carbon-offsetting scheme that not only easily offsets the carbon output of the websites we host for our clients, but also that of most, if not all of our business activities.
This means, if you have a website hosted by Warp Design you can confidently boast that you are doing your bit by running your site on carbon-neutral hosting at no additional expense or effort on your part.
Why are we doing this?
We strongly believe that we all have a responsibility to take care of the world in which we live and operate our businesses.
Sure, it might seem like cynical 'greenwash' to some, but the bottom line is that if all businesses do their bit and make it possible for individuals to make ethical buying decisions for their company then we can make significant strides towards addressing climate change.
How are we doing this?
Over the past year we've been beavering away behind the scenes to get a handle on the carbon footprint of our web hosting and wider business activities.
Through long and often technical conversations with our upstream data-centre operators we've been able to audit the amount of energy each of our hosted websites is using. We've also learnt how to calculate the footprint of websites we might host in future.
Armed with this information, we're working with Forest Carbon, to not only offset the carbon our business generates today (and some) but also ensure we continue to offset the right amount of carbon as we continue to grow.
From the off we'll be offsetting at least 25 tonnes of CO2 each year and at least 100 new trees a year will be planted in new UK woodland through our participation in the scheme.
Forest Carbon projects are certified by accredited bodies to ISO standards, ensuring the right trees have been planted, in the right place, carbon capture estimates are scientifically sound and risk adjusted and that trees would not be there but for the intervention of Forest Carbon and partners.
They have planted over 7.0 million trees in the UK in more than 135 new woodlands covering over 7,000 acres. Over 1,400,000 tonnes of CO2 being captured in the UK for businesses, including NEX, Allstar, Kier, BWOC, Nationwide Building Society, PwC, sofa.com, M&S, Valassis, Antalis, The Green Insurance Company, Redhills, Stagecoach, The UK Green Investment Bank and many more.
Wait!... There's more
Not only are we now offering carbon-neutral hosting for our clients and offsetting the footprint of our day-to-day business operations, but our research has found many of our upstream providers are also operating their own sustainability programmes.
In particular, two of the European data we work with most often are taking steps to minimise their own carbon footprint and reduce our energy consumption with a long-term goal to use 100% clean and renewable energy.
What's more, back at Warp Design HQ we're switching our energy provider – from 13th October 2019 we'll be powered by green energy from Octopus Energy -2019 award winners 'for the company that's done the most in the past year to advance UK renewables'.
Through switching our energy provider alone we'll be contributing a further estimated 173 trees to carbon offsetting schemes over the 12 months.
Six months ago we defined a new company value for Warp Design to be environmentally responsible. This committed us to strive to respond to and minimize the negative impact of our organisation and clients on the planet.
This has always been a value we've believed in and desired to operate by. But now we can be proud to say we're actually delivering on it too.
From this day forward, Warp Design is demonstrably a company that takes its environmental responsibilities seriously. A Warp Design website is now a carbon-neutral website.
If you are a company who cares about the environment, then you can be sure that by working with Warp Design you have selected a partner who also cares about the world we share and will take steps on your behalf to minimise your organisation's carbon footprint online.
If you're looking to switch to carbon-neutral web hosting, we offer a Free website migration service. Call us on 01233 884761 to learn more.