If you are a professional company, you should have a professional email address.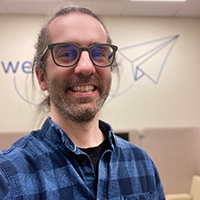 By Jonathan, May 7, 2019
First posted by Jonathan on November 23, 2015
Here at Warp Design we are frequently surprised (and amused) at the number of businesses offering professional services that don't have professional email addresses. We've all seen them, the plumbers van with dave41@britishtelecoms.com or the trailer badged gardeningserviceskent@hotmail.com, often coupled with a mobile only phone number.
Your email address says a lot about you and your business. This Daily Telegraph article hits the nail on the head:
If you use the email account offered by your ISP it's probably because you don't know how not to. It implies that emails will be checked infrequently, if at all, and that replies will come in 14 point Comic Sans font.
Despite this, time and time again, you see these email addresses out there in the wild giving off a terrible first impression. The professional who has often spent time developing their brand, got a nice logo, a new vehicle with no-doubt expensive sign writing, but with a naff ISP provided email address. You see it on the supermarket noticeboard, the Facebook cover picture, the creased flyer your friend gave you when recommending their service.
What is perhaps most jarring however, is how many of these companies seem to be using these outdated email addresses despite also having a website and owning their own domain.
As The Telegraph so bluntly points out, this probably isn't Dave The Plumber's fault, he just doesn't know that if you own your own domain, then you are able to have an email address @ that domain.
For those with a bit of technical knowledge this often is as simple as logging into your website control panel to create a mailbox on your hosting account and perhaps a few changes to your domain name's DNS records.
If you already have a website, then it really shouldn't be too much trouble for your existing web host or developer to set this up for you. The fact that they haven't done this already for you should ring a few alarm bells about the quality of their service. Perhaps it's time to consider changing your web hosting provider (Hint, hint - give Warp Design a call we'll have you set up in no time!) - who knows what else they aren't doing, like backing up your site. Even worse, you may find you are paying for a number of inclusive email inboxes with your hosting and just not using them. Another reason reconsider who is providing your web services.
An extra layer of complication added in recent years, is the proliferation of the DIY site builder platforms like Weebly and Shopify. Many of whom offer websites, using custom domain names, but often leave users clueless as to how to set up email accounts using this domain name.
In most instances you will need to find a separate email provider for this (Hint hint). Here at Warp Design, we would make the correct changes to your domain's DNS settings to route your email through our server without interrupting your website, provide you with professional addressees using your custom domain, and set you up on our reliable, fast email servers accessible via webmail, desktop computers, tablets and mobile devices. All at very reasonable rates. .
For those needing a bit more from their email like shared mailboxes or calendar syncing amongst colleagues we can also use your custom domain to provide hosted Microsoft Exchange mailboxes.
To sum up - if you are a professional company, then you should have a professional email address. Otherwise you may be unknowingly sending out negative signals about the level of your professionalism.  

If you think your email address may be letting your business image down, give us a call today on 01233 884761 and start experiencing email the way it should be.