Google's Generative AI - the end of SEO, or the start of something new?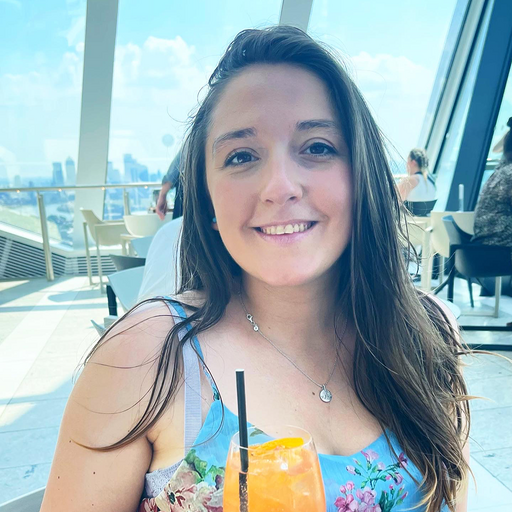 By Victoria, May 12, 2023
At their Google I/O 2023 event , Google announced some exciting new AI technological advances that will be added to their products. Among the most notable of these is the Search Generative Experience, also known as SGE.
 
The CEO of Google and Alphabet, Sundar Pichai,  spoke about how AI technology already plays a significant role in our daily lives, improving our work experience. He cited Gmail's "smart reply" options, originally launched in 2017, which suggest phrases for users to choose from, and "smart compose," which offers more advanced and real-time options to complete sentences, as examples of this. I personally have experienced the benefit of these suggestions, and I am sure you'll notice this more in your daily life - now that you've been made aware of this. 
Sundar Pichai went on to demonstrate the impressive nature of the latest AI advancement for Gmail, the "help me write" function. This feature allows users to write a prompt, and a full draft is generated by the AI model. During the seminar, they demonstrated the real-life application, with an example of replying to an email requesting a full refund for a cancelled flight. 
It was very interesting to see that the AI, also known as 'The Bard' , was able to write the response, choosing the right stylistic aspects for an email such as the format and structure, but also including the content from the previous email - such as the flight cancellation number. It was even more impressive to see that there were options to 'elaborate' on that email - adding more content to the email - to make a more compelling case for why the full refund should be granted. Understandably this revelation received a notable response from those in attendance! 
I would highly recommend watching Google's recap video for more information on the latest offerings and demonstrations of these - the visualisation of a route in maps was very exciting! 
What do Google Bard and generative AI mean for SEO?
From an SEO perspective, I was most interested in the updates to their search product. Ai and algorithms already play a significant role in SEO, with specialists like myself working hard to understand what Google values, and optimising websites to offer this. It is important to pay attention to Google's preferences, as it will dramatically impact our practices, and the recommendations we make to clients. A striking example of this is the shift away from 'keyword stuffing' to more quality content. Google wants to ensure it makes the best recommendations, and if you optimise your website to have the best quality content for your audience, you are also improving in Google's eyes too.
Cathy Edwards, the Vice President and General Manger, demonstrated the new conversational aspect of the Bard at work. They showed how Search will now be able to handle very specific, long phrase queries and also showed what the new Search Engine Results Page (SERPs) will look like.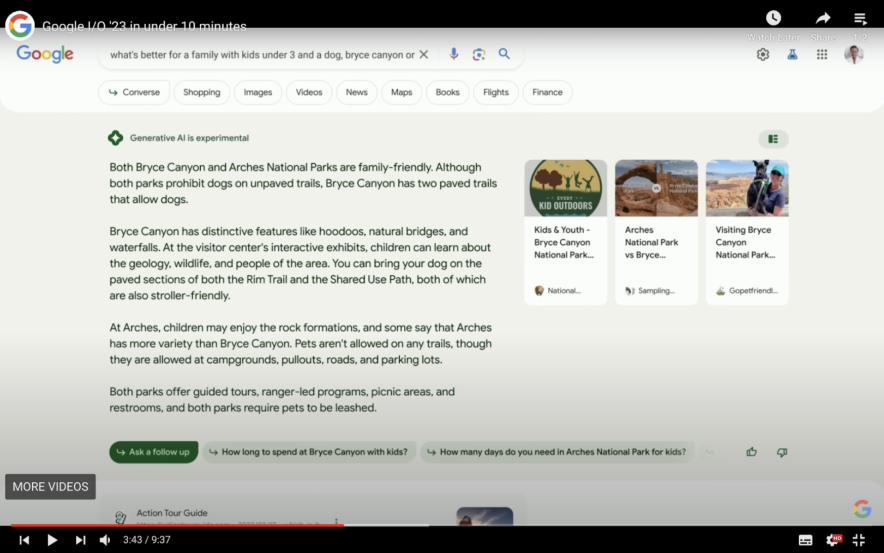 The most striking aspect for me was the conversational aspect of this search, with it offering layers of search. You didn't need to start the 'search' query from scratch if you wanted to add a detail - such as their example of wanting a bike that is good for long journeys and hills, and then wanting to specify that you would like this bike to be red. Being able to develop your search further felt like it was encouraging users to spend more time engaging with the content, and fine tuning what you were really asking.  
Follow up questions are offered in the same style as the Gmail 'smart replies', with more sources located underneath. For me, this feels like a very built out, developed and evolved version of 'People Also Ask' and 'Featured Snippets'. I am personally excited about this innovation and encouragement to create even greater quality content that the Bard can offer to users in its recommendation.
Our reccomendations for SEO in the era of AI search
It is our recommendation to optimise your website by writing content that focuses on your audience, and attempts to solve their problems first and foremost. We suggest using keywords with good search volume as a prompt and guide for content, and writing in a style that is optimal for Google, but ultimately emphasising the value of people centric content. 
It is important to recognise that a greater proportion of the SERPs will now be taken up by the Generative AI offering, and therefore makes the real estate for organic search much more competitive. This is certainly a daunting prospect for us SEO specialists. There certainly has been a hive of activity, with questions about 'The End of SEO?' thrown up in comment sections. 
However, I am optimistic that these changes will encourage and demand improvement in content, and that the AI will direct audiences towards quality content offered on websites - and their offerings will therefore appear above paid search. It may also encourage further diversification of content beyond blogs - whether this is written social media content like LinkedIn articles, tweets, or video content like Youtube or Tik Tok.
I am of the opinion that - innovation that encourages us to do better, is a great thing. I look forward to seeing how the introduction of the Bard impacts my day to day life, and this new chapter of Search Engine Optimisation. 
Victoria Izatt-Lowry 
SEO Specialist
Warp Design
Images source: Google