Discovering the Thrills of Handball: A First-Timer's Perspective at the NorDan British Handball Super Cup.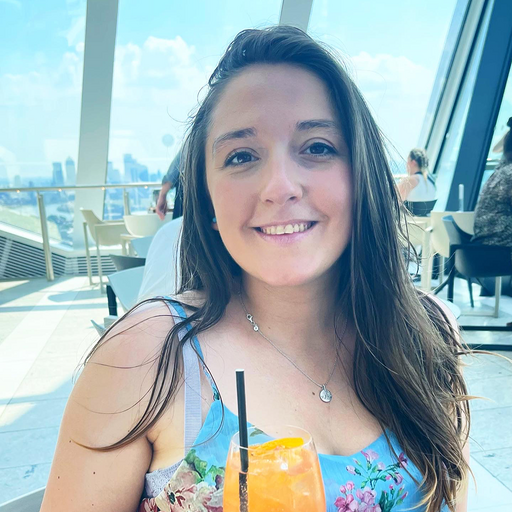 By Victoria, May 23, 2023
Nothing like netball!
On Sunday, I had the incredible opportunity to attend the NorDan British Handball Super Cup held at the Oriam Sports Centre. Although my colleague, Paul Goodwin, is well-versed in handball as the former Chief Executive Officer of the British Handball Association, I had never experienced this sport before. Naively assuming it would resemble netball, a game I played throughout school and university, I soon discovered just how mistaken I was.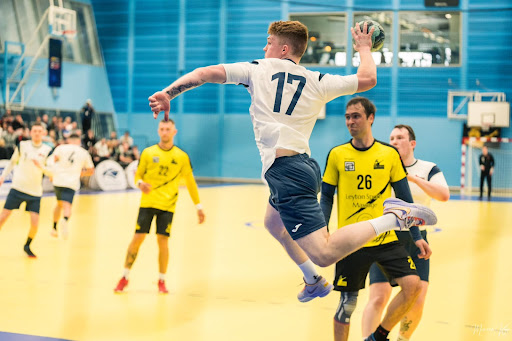 Image credit: Max van Kooy
Right from the start, the most striking difference was the sheer physicality of handball. Defenders fearlessly employed their bodies to block shots, intercept passes, and impede the progress of attacking players. Attackers strategically positioned their bodies to gain an edge, and while the game remained controlled, significant physical contact was present throughout. It was a stark contrast to the mandated three-foot distance in netball, confirming that handball was an entirely different sport than what I had anticipated.
Incredible skill and fantastic teamwork
The court came alive with charging players swiftly passing the ball in a dynamic circle around the goal, followed by explosive movements towards scoring. The players showcased their strength, maneuvering with agility and executing high-intensity plays. The Supercup featured exceptional teams, demonstrating incredible skill and fantastic teamwork. I couldn't have been happier that my first experience coincided with an Edinburgh team victory.
Among the many captivating aspects of the gameplay, the "jumpshot" quickly became my favorite. Attacking players, unable to enter the goal area—a semi-circle zone—often soared into the air, gaining height above defenders to unleash powerful shots. This exhilarating maneuver is a vital part of the game and so widely recognized that it became the iconic handball emoji 

An unforgettable experience
I feel incredibly lucky that my first experience of this sport was the Super Cup. I was immersed in not only top-notch handball performance but also outstanding production quality. After each goal, a brief snippet of music punctuated the moment, adding to the electric atmosphere. Moreover, the event was live-streamed on YouTube, featuring live commentary, multiple camera angles, and replays. If you're interested, you can still watch the broadcast here.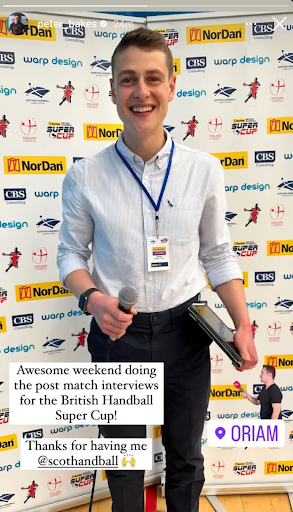 Source: Peter Sawkins Instagram Story -  @peter_bakes
Peter Sawkins, renowned as winner of the Great British Bake Off in 2020, hosted the post-match interviews. Most recognise Peter for his baking prowess, he is also a keen sports enthusiast. You can catch his interviews in the aforementioned broadcast. 
Massive thank you to Julia Stenhouse and her team, who warmly welcomed me and made this sensational introduction to the world of handball possible. Representing Warp Design at such a remarkable event was a privilege I will always cherish. 
In conclusion, the NorDan British Handball Super Cup opened my eyes to the intensity, athleticism, and pure excitement of this captivating sport. It was an unforgettable experience that left me with a newfound appreciation for handball's unique dynamics and the incredible athletes who compete in it.
Victoria