Custom web design versus site builder tools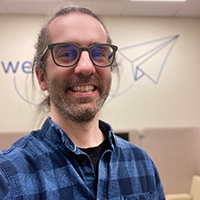 By Jonathan, May 13, 2019
With the likes of Wix, Squarespace, GoDaddy, Yell and many others providing services at a seemingly low monthly subscription rate, it can be tempting to have a go at building your own website for your business.
But as the old saying goes, if it seems too good to be true, it probably is! I know I wouldn't gamble my business by trying to install my own electrics or build my own retail premises. So nor should you try to build your own website if that is not your specialism. Concentrate on what you do best - some things are best left to the pros. After all your website is your shop window to the world.
We understand that small businesses and start-ups are keen to reduce costs at every opportunity, but it's important to understand both the true cost of building your own website and also the value a 'proper' website could deliver to your bottom line.
We've lost count of the number of customers we've 'rescued' over the years from badly thought out, underperforming sites that they either tried to build themselves, have a friend design or have developed on a zero budget.
So before you contemplate gunning for amateur web design status at the 'design olympics', here for your consideration, are the 5 things people who are now valued clients tell us they wish they had known prior to cutting their web design budget.
1. Low budget, low performance
A low budget website is often built with little regard to the stated aims of the client, search optimisation, lead conversion or user experience. Many entry-level providers work on a high-volume, fast turn-around model that leads to sites built with off-the-shelf templates, ready built Wordpress themes, drag-and-drop site builders and identikit styling that leaves your website looking the same as every other site they have created to date.
Before even a pixel of design or a letter of code has been written, a good web designer should have sat down with you and discussed:
Your business objectives and goals for the website
How you are planning to drive traffic through the site
Your audience
Your competitors
Your branding and ambitions for the new site's appearance
Your budget
SEO/Marketing strategy
How your site will be built and why
You and your business deserve the care and attention required to get results online. Don't just settle for looking pretty. What lies below the surface is really important for success online.
2. Tie-Ins and hidden costs
We've heard from clients who have struggled to obtain ongoing services or escape from their budget website provider. Tales of lengthy fixed-term contracts that provide the bare minimum of service and expensive premiums charged to add basic features to an already basic proposition are sadly all too common.
Often though, through pressure selling and vague promises around online advertising, directories and SEO it's too late - buyer beware. The deal has been signed and the client left with no choice but to sit out the contract while their website toils in marketing hell or to leave the arrangement at additional cost.
Before agreeing to a deal with any website provider, we recommend ensuring all spec, pages and functionality are fully scoped and agreed explicitly in writing before signing a deal or paying a deposit.
Think about the pages you require, lead forms, any custom functionality and how you want the site to look. Will you see prototypes or wireframes prior to the build? How will new pages and content be added once the site is launched, who is responsible for technical issues, security updates and search engine optimisation (SEO).
Also, consider the exit terms should you decide to leave their service behind. Can you take your site with you, or is it tied to a specific platform or cloud service? If it's the latter your investment in development will be left behind too.
We also advise that you register and manage your own domains names. Retaining these as part of your package is an easy, but below the belt, way for a company to make leaving them difficult. (Though not impossible... let us know if you need help with this).
3. Aftercare
As mentioned above, what happens after your site is launched? Who is responsible for keeping your site up to date and secure, both in terms of content and from a technical perspective. If your site does well can you upgrade your hosting for better performance? Are you able to add new pages and content yourself or will you be forced to pay someone else for this privilege?
Another common aftercare complaint we come across with site builder platforms is that unlike ourselves and most other custom web designers we know, they are simply not available to speak to. Support requests involve lengthy waits on calls to foreign call centres or waiting long periods for email responses. Compare that to a smaller, independent provider like us here at Warp Design; We are always at the end of the phone, direct to our studio (no call centres) and always happy to offer no-obligation advice. Our websites are built feature-rich and future-proof from the beginning and our contracts flexible. This is the way web design should be. We're your friends and we care for your business. We're not box-shifting templates, we're in it for the long haul.
4. Building a website takes longer than you think
You know how Keanu Reeves appears on Squarespace adverts making web design look easy. Well, I got news for you, building a good quality website is harder than it looks. We should know, we do it all day every day. When budgeting for a website you plan to build yourself, don't forget to factor in your time to handle the design, development, creating and populating the content, DNS/domain/server settings and ongoing maintenance.
If for example you are a service business and you price your time to your clients at a modest £50 per hour, you only need to spend 30 hours on your website to reach £1500 spent in labour - that's before you factor in subscription fees, hosting and domain registrations. Many web design companies, Warp Design included, could get you up and running with a high-quality, future-proof, bespoke business starter website package for that sort of budget complete with the good advice you need for success online.
Consider whether your business would benefit more from you concentrating on running your business and dealing with your customers, or spending your time dabbling with web design.
5. ROI and value
The final and some might say biggest consideration, when weighing up using a site builder tool versus utilising a professional web design company is that of potential value and return on investment (ROI).
As with any other aspect of business planning, you should be thinking about the value you wish to obtain from your website and the level of investment required to realise this. If you think a £25 per month DIY solution is going to deliver on your business objectives then, by all means, follow this path.
However, we think in most cases partnering with a professional web design company who will fully consider your goals, audience, marketing strategy and budget will deliver a far more successful website for your business. Most reasonable web development companies, ourselves included, will also work with you to plan your website to marry affordability, performance and capacity for future growth.
Don't underestimate the value of the free 'discovery' consultation that a professional web design company will give you as opposed to the 'pay first, find out for yourself' reality of many online site builder platforms.
TLDR;
Too long didn't read: Sure, DIY web builder platforms have their place. But this is likely amongst hobbyists, sports clubs and other small organisations for whom success online isn't critical to their plans. However if you are a results-driven company looking to generate business online, then professional web design really is your best option.
Whatsmore, there is a wide range of high-quality web design companies out there to suit the requirements and budgets of most small businesses. Don't assume you can't afford a quality website - with a professionally designed and well-planned site you will unlock the revenue required to cover the cost of development whilst freeing yourself to concentrate on running your business.
Check out Warp Design's Web Design and Development services.

We create and market results-driven sites for organisations for a wide range of sizes and industries. Want to know more? Chat with our team about your requirements on 01233 884761.