Are you drowning in email? Because we are! Here's what we're doing about it.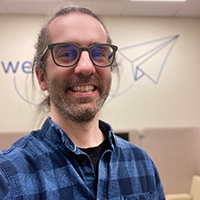 By Jonathan, May 7, 2019
For a while now, we've had a big problem here at Warp Design, email. Specifically, the sheer volume of email our team is having to deal with on a daily basis.
As we've grown so has the email problem, inbox zero has become a hazy, unreachable mirage off over the horizon. It is affecting productivity and we've decided to take action.
The holy grail
We know it's not only us who weep at the sight of our inboxes each morning. We use email, in-fact we need email, but there has to be another way. One where we can remain communicative and highly available for our clients whilst also being able to dedicate the time we need to continue outputting high-quality products and services. 
So as we attempt to grab the email bull by the horns, we are documenting our actions here. Not only to keep our clients informed but for the greater good of humanity too! We'll update this post as we discover what works and what doesn't and whether or not we've achieved the holy grail - less time spent on email and more time realising awesome projects for our clients.
We're not talking about spam
Most people reading this post will be able to relate to the hell outlined above. You sit down at your desk to get to work on whatever important tasks shape your day, only to find your plans laid to waste by an inbox bursting at the seams. I must make clear however, we're not talking about spam here. Yes spam is a problem. Yes we receive a lot of it. But we have it under control. We use an effective spam filter system (ask us if you need help) that largely mitigates this problem and our team all receive a daily summary of what has been filtered in case of misidentified genuine messages.
What we're actually talking about is real emails, from real contacts. Usually, these messages are important and most need replying to in some way and dealing with them is a massive black hole into which all time seems to flow.
Daily emails to my own inbox for example routinely include, but are not limited to, requests from clients, invoices from suppliers, check-ins from freelancers, meeting requests, newsletters, internal team messages, supplied files for projects, cloud software notifications and so much more. Replying to these takes time. That's before we even thinking about the new messages we have to send to others.
Sound familiar? More efficient handling of this workload (yes, dealing with email is work) and preventing it from interfering with the other work (you know, your 'real job') is the challenge we have set ourselves.
It's not just email either
Email is the biggest problem for several of our team in terms of lost productive hours here at Warp Design. However unplanned phone calls, social media messages, SMS and meetings all play their part in eating time. We're going to try and address all these problems in go, with the same tools we're using to solve our email problem.
Our 3 steps to email freedom
If you came here looking for fireworks, I warn you now, you may be disappointed. This is (at least for the time being) a quiet revolution! We want to solve our email problem without having to spend loads of cash on new services or sacrificing yet more time to internal onboarding. We are making small and non-disruptive changes to our systems and processes, using widely available and affordable tools. The sum of the parts and all that!... through these small tweaks to the way we work, we hope, will come the answer to a big problem.
So here's what we're doing:
1. Implementing a response time policy
Our team will no longer be expected to respond to messages to their personal mailboxes (e.g. name@) immediately (they never were but it had become the way we were doing things and clients have come to expect it).
Instead, we will guarantee a response within 24hrs (Mon-Fri). We mean this too. If we are expecting clients to wait for a response we have to make sure they get one within the timescales promised.
What this means is that we remove the distraction of incoming mail. Team members can even close their mail client for periods of the day for distraction-free working in the knowledge that by not replying immediately they are not letting clients or colleagues down (see below).
2. Educating our clients and team members
We want to free ourselves from the shackles of email,  but we don't want to leave our clients hanging either. A client who must wait to hear from you, but knows when they will hear from you is always going to be happier than a client who thinks they are being ignored.
We are educating our clients so they know about our response time policy, how quickly they should expect a reply from our team and what they can do if their request is urgent and they can't wait up to 24hrs for a reply. Blog posts like this one and a polite message to our existing contacts will explain these changes whilst automated onboarding for new clients will set expectations from the off.
As well as educating our clients, we're educating our team too. We want everyone within Warp Design to be able to handle as many of the most common enquiries we receive as possible.
We're never going to expect an administrator to start coding websites or a graphic designer to start doing the invoicing. But every call or email that was handled by any available team member rather than being piled onto someone whom the team may be relying on to meet a deadline is production time saved and a better service delivered.
To aid the process of educating all team members so they can handle as many emails and calls as possible regardless of their own specific expertise we are implementing an internal knowledgebase with the answers to all the most common questions.
3. Logging and rerouting inbound calls and messages
Paradoxically, we're also making ourselves more available for contact, but via more controlled means. These include a shared, ticketed, team inbox, a distributed phone system and project management portal.
As mentioned above the last thing we want to do is make ourselves less available to our clients as an organisation. What we actually want to do is ensure all members of our team have the time they need to be productive in their main area of expertise, not make it harder for clients to reach us.
All emails to our personal inboxes will generate an auto-response that outlines an expected response time and alternative ways to reach us if their enquiry is urgent.
Each member of our team will have a period of their working day during which they can safely ignore the phone and their email inbox. During this period inbound calls and enquiries will be either handled by another team member (if possible) or logged on a ticketed support system and flagged for attention by the most relevant team member and ordered by level of urgency.
Clients with ongoing projects or retained services will also have access to our online project management portal to raise new requests or discuss ongoing work. These communications are already routed to the most relevant members of the team. This has the added benefit that if a team member is busy on a specific project during a distraction-free work period then that message may be picked up sooner than had it been emailed.
What this means for clients is that whilst we may take longer to reply personally to a message from them, they will actually be receiving a faster overall response time from us as a whole and also know when to expect action to be taken. They'll also benefit from better tracking of their enquiry, more transparency and better overall service from Warp Design, whilst we have more time overall to provide that high-quality service we're known for.
How we're doing it
We thought we would provide a quick rundown of the tools we're currently using to achieve the above. As mentioned, expect nothing groundbreaking here, just a carefully selected and time-tested set of tools that we hope combined will rise to the challenge of beating email:
Hosted Exchange email with auto-responders for traditional email
Freshdesk - for a fully ticketed shared team inbox
Freshdesk - for team knowledgebase and canned replies
Slack - for quick internal email-less communication
CircleLoop - for smart, cloud-based, distributed phone system and voicemail
ActiveCollab - for cloud-based client project and team management
ActiveCampaign - for automated communications and onboarding
So there you have it - the first step to tackling the problem was for us to recognise we had a problem. Now you know how we're planning to deal with it.
Check back here for updates on how we're getting on with this new approach and what we've learnt.
If you're a client and have feedback for us on how you're finding our communication then please don't email us.... just kidding! Get in touch by the usual means - we would love to hear from you.